DLC (Diamond Like Carbon)
Diamond Like Carbon, or DLC for short, is a classification for a specific family of very durable yet thin-film coatings. DLC coating is used to reduce wear on critical components while drastically improving durability. Friction is reduced and general functionality of components is increased.
Not all DLC is the same. Although similar, DLC coatings are not always the same. Each DLC application process varies from one vendor to the next. Simply put, some do it better than others. We take pride in our work, and ensure that our DLC coatings are applied with the best possible methods. From prep work, until the finished product is revealed, DNA Firearm Systems provides quality, no matter what.
DLC AND DNA
Alpha and Omega Models NOW Available with DLC application to various components.
DLC is an extremely hard coating that provides extreme hardness, strength, wear resistance and the coating is only 4 microns thick. We are the industries first to offer DLC coated receivers! The ultimate goal is more than just a coating the yields strength and reliability. Gas guns can get extremely dirty, (especially when used suppressed). The motive behind offering DLC application on most components that we offer is to aid in extremely fast and simple clean up. Therefore, more time in the field, and less time cleaning.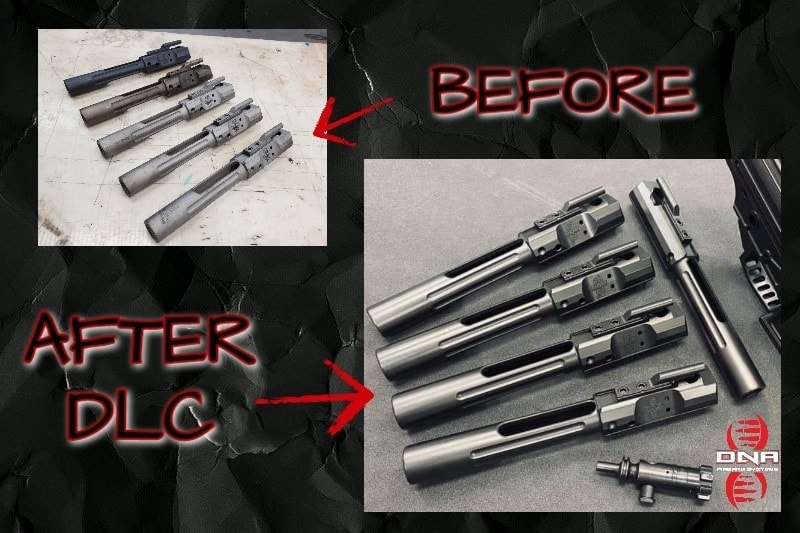 DLC COATING SERVICES FOR COMPONENTS
Do you have a previous DNA build, or components you already own, that you would like to have DLC Coating applied to? Ask us about our DLC Coating Services on existing components. Note: Components are subject to cleaning and preparation fee for the DLC Coating Service in order to ensure proper bonding.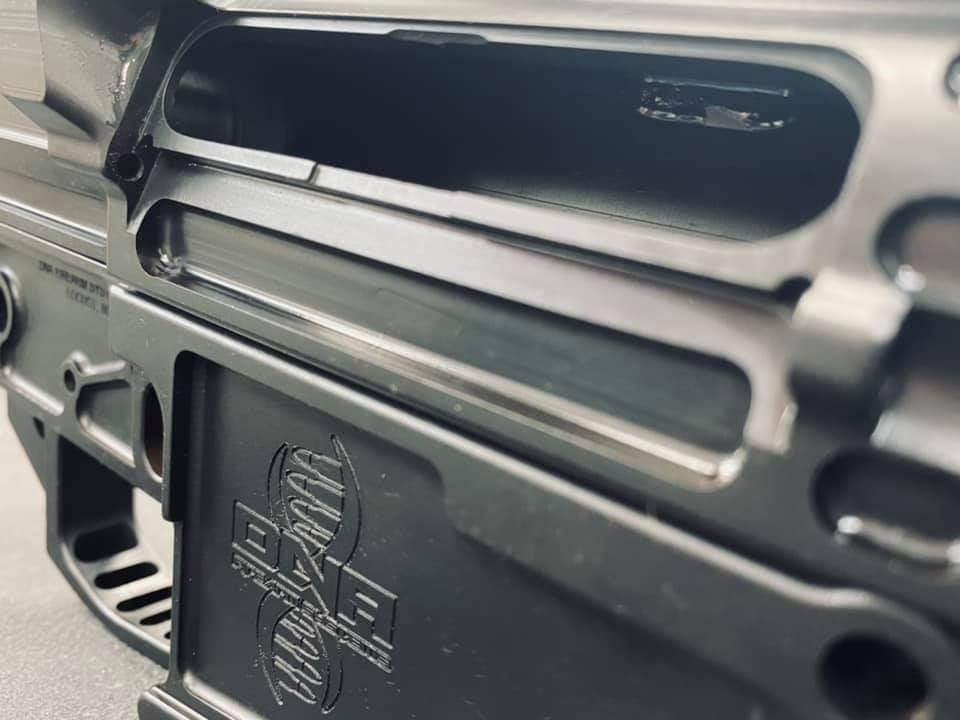 DLC Application
DLC can be applied through various methods. The common methods are:
PVD (physical vapor deposition)
CVD(chemical vapor deposition)
PECVD (plasma enhanced chemical vapor deposition)

Allows for lower application temperatures
DLC FAQ
Turnaround Time: Typically 2-3 weeks depending on volume.
Shipping:
DNA Firearm Systems
212 E Main Street, Unit #3
Locust, NC 28097
Please include in the package your name, contact information, return shipping address and what all you are wanting coated along with any special instructions if applicable. (i.e. If polished parts are being sent and you are wanting to keep a polished finished look, then we need to know not to blast components.).
Everything needs to come to us completely disassembled.
Payment: Due at pickup, or upon completion before shipping back. We will send QA photos.
DLC Price List
DLC is only offered in black at this time.
Pricing includes prepping: blasting, cleaning and coating of parts. To avoid additional fees, parts must come to us completely disassembled. Component has to be metal for DLC Coating! Pricing does not include return shipping costs!
Pistol Pricing
Complete Pistol$430.00
Frame – 2011$60.00
Frame – 1911$90.00
Revolver Frame$60.00
Slide$60.00
Barrel$40.00
Magazine$30.00
Safety$16.00
Cylinder$16.00
Front Sights$16.00
Rear Sights$16.00
Hammer$16.00
Trigger$16.00
Sear$16.00
Disconnect$16.00
Grip Safety$16.00
Extractor$16.00
Ejector$16.00
Firing Pin$16.00
Firing Pin Retainer$16.00
Bolt Action / AR Rifle Pricing
Receiver Only$190.00
Bolt/Handle Only$60.00
Rail Only$40.00
Bolt Release/Catch$22.00
Upper AR Receiver$150.00
Lower AR Receiver$150.00
Barrel – up to 30″$196.00
Shroud$22.00
Cocking Piece
$16.00
Bolt Stop$16.00
Set Screw$16.00
Firepin Retainer$16.00
Recoil Lug$22.00
Extractor$16.00
Ejector$16.00
Aluminum Chassis (one piece under 30″)$220.00
Aluminum Chassis (2 pieces w/ each piece under 30″)$220.00
Bolt Carrier Group (bolt, carrier, ejector & cam pin)$110.00
Aluminum Handguards (any length)$150.00
Buttstock$150.00
AR Adapter Nut$22.00
Grip$60.00
Barrel Nut$22.00
Gas Blocks$22.00
Bolt/AR Magazines$70.00
Magazine Release$22.00
Safety$16.00
Front Sights$22.00
Rear Sights$22.00
Knife Pricing
Blade – Up to 1.99″$6.90
Blade – 2.00-2.99″$11.76
Blade – 3.00-3.99″$16.26
Blade – 4.00-5.99″$25.34
Blade – 6.00-6.99″$30.00
Blade – 7.00-8.99″$39.88
Blade – 9.00-10.99$49.56
Blade – 11.00-12.99″$61.96
Blade – 13.00-14.99″$77.46
Blade – 15.00-20.00″$97.14
Other Pricing
Screws$6.00
Thread Protector (<2″)$16.00
ARCA Rail <5″$36.00
ARCA Rail <10″$72.00
ARCA Rail >10″$96.00
DNA Firearm Systems is not responsible for component failures/damages after DLC service application. During DLC application, components will be exposed to temps up to 450° F and undergo sandblast operations. It is the customer's responsibility to ensure that the component can endure these processes. DNA warranties DLC application for 30 days after receipt of service. Expect DLC to wear down to raw finish in high-wear areas over time. DLC breakdown is a positive reaction. Carbon deposits are being placed and will increase component functionality.
More about DLC
Carbon, in a diamond crystal structure, is one of the hardest known materials. Carbon, in a graphite crystal structure, is very soft and lubricious. Carbon-based coatings, referred to as Diamond-like-Carbon (DLC) coatings, combine these two different properties of diamond and graphite – resulting in high hardness levels – in the range of conventional tribological PVD coatings, coupled with a coefficient of friction which is 200-500% lower than that of conventional PVD coatings. DLC Coatings exhibit a desirable combination of a low coefficient of friction and high micro-hardness, making them extremely effective in many tribological and wear applications. DLC is such a durable and lubricious coating it is also used in the engines of modern Super sport Motorcycles, Drag Racing Cars, Formula 1 and NASCAR Race Cars that undergo extreme abuse yet need to maintain superior performance.
DLC coatings are formed when ionized and decomposed carbon or hydrocarbon species land on the surface of a substrate with energy typically 10-300eV. DLC films may possess exceptional mechanical (high hardness), optical (high optical band gap), electrical (high electrical resistivity), chemical (inert) and tribological (low friction and wear coefficient) properties and can be deposited at low substrate temperatures (~200°C).